Kwik Stop Rewards - save $$ at pump & in store!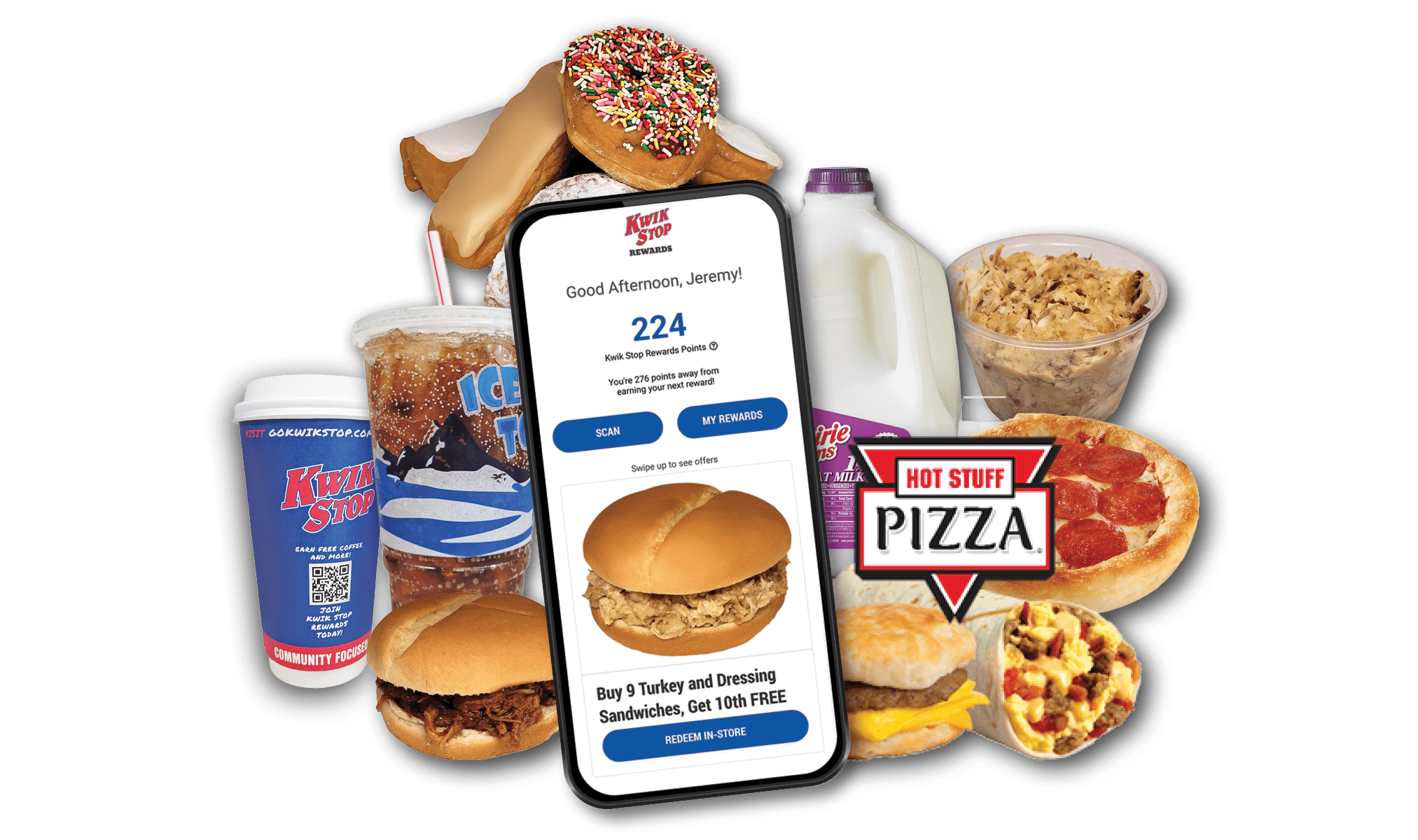 The NEW Kwik Stop Rewards App rewards customers for every dollar spent inside the store (excluding alcohol, lotto, and tobacco) and for every gallon purchased at the pump!
Members have the choice of how and where they spend their loyalty points. You can choose to spend your points as cash in-store, as fuel discounts at the pump, or donate points to a local nonprofit. 
With initial signup, receive 25 cents off per gallon offer, up to 20 gallons. 
You will earn 8 points per $1 spent and 4 points for every gallon of gas purchased. You can then convert your points under the "My Rewards" Button at the top of the home screen into fuel, rewards cash in-store, or donate to local nonprofit.
200 points can be converted into $0.08 per gallon off at the pump or $2 in store cash or $2 to a local nonprofit. We will have promo code opportunities, referral offers, giveaways, and more to come on the app.
Kwik Stop Rewards Club Offers Include:
NEW! Buy 9 Turkey and Dressing Sandwiches, Get the 10th FREE
NEW! Buy 9 32oz Fountain Drinks, Get the 10th FREE
Buy 5 Coffees, Get 6th FREE
Buy 9 Prairie Farms Milk Gallons, Get 10th FREE
Buy 5 Hot Stuff Burritos / Sandwiches, Get 6th FREE
Buy 9 Hot Stuff Personal Pizzas, Get 10th FREE
Buy 9 Godfather's Pizzas, Get 10th FREE
Buy 6 Single Donuts, Get 7th FREE
Buy 5 Car Washes, Get 6th FREE (In-store Only at 3 locations)
Buy 5 Showers, Get 6th FREE (Peosta and BP 16th Street Only)
Download the Kwik Stop Rewards app from your smartphone app store TODAY to begin saving at both the pump and in store! You'll receive exclusive offers, earn gas savings, club offers, and more!
Visit our Register to Win webpage to learn about the current opportunities available to win.
Keep checking back for new opportunities to win throughout the year!
Locally Owned. Community Focused.